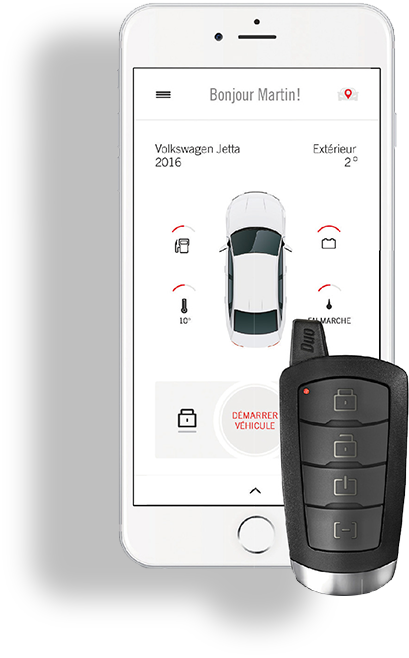 THE ULTIMATE
REMOTE CAR STARTER
START YOUR VEHICLE WITH YOUR SMARTPHONE
OR A LONG-RANGE REMOTE TRANSMITTER
FREE APPLICATION
NO SUBSCRIPTION FEES
NO MONTHLY FEES

START YOUR CAR
The EVO-START is the fastest remote starter
application for smartphone available on the market.
---

TEMPERATURE
The EVO-START application lets you know the exact temperature
inside your car, as well as a number of other information: starter
countdown, manual sequence, and much more.
---

RUNNING TIME
The EVO-START features a timer display, giving you
control and access to the remote starter countdown
directly on the application.
---

SECURITY
The EVO-START displays a Pop-Up alert on your smartphone
to inform you of any break-in or diagnostic information related
to your car, wherever you may be. *
---

SLIDING DOORS
Opening your sliding doors has never been easier. The EVO-START
application gives you full remote control on your sliding doors.
---

TRUNK
The EVO-START lets you open the trunk of your car
directly from your smartphone.
---

LOCK & UNLOCK
The EVO-START allows you to use your smartphone exactly
like the OEM remote control of your car, but with a greater range.
Lock and unlock your doors with your smartphone.
---

ALARM
The EVO-START application is connected to the alarm activation
system of your vehicle and will inform you of any break-in or other
infraction that may occur.
---

CONTROL ALL YOUR VEHICLES
The EVO-START gives you complete control of all your vehicles.
Control an unlimited number of cars with a single application!
---